Brochure
Front End Engineering Design (FEED).
Project Management.
Subsea Construction & Structures Installation.
Pipelines Construction & Installation.
Tank Construction & Cleaning Services.
Rehabilitation of Oil Storage Facilities
Download Escon Profile
Contact us ?
For enquiries, please send an email or call and a member of our team will contact you.
Km 16 Port Harcourt/Aba Expressway Opp. Intels off Boskel Road, Elelenwo Industrial Layout, Port Harcourt, Rivers State, Nigeria.
Corrosion Control
Blasting, Priming and Painting Projects
Blasting materials: Grit, Sand, Slurry, High-Pressure Hydro Blasting
This service which is usually a sequel to inspection is a remediation exercise carried out on corroded areas of plants, support structures, and oil and gas delivery lines. The scope of Corrosion Control Services Provided by our company includes the following;
Surface preparation
Blasting
Coating
Painting
Grit Blasting
We have a blasting bay for in-house blasting operations measuring some square metres equipped with movable pots, hoses and nozzles.
We can perform also perform high-pressure hydro blasting if required.
Over the years, Escon Oilfields Limited has maintained a reliable marine coating products with zero failure rate for new facility builds and for the maintenance of existing ships, tank farms, gas and oil pipelines and terminals, barges, rigs and platforms, houseboats and marine structures adhering appropriately to surface preparations and recommended coating systems varying from conventional to the most sophisticated marine products.
We help our clients to meet all relevant standards and tests, reduce downtime on maintenance projects, safety and effectively protect their facilities.
We provide coating solutions to a wide variety of industries covering the oil and gas sector, construction, marine and shipping companies etc.
But through continuous solutions with cutting edge technology and a commitment to the environment, we offer a range of protective coating solutions with full technical support.
We, therefore, keep our customers at the forefront of everything we do when it comes to the protection of clients' assets and the maintenance of marine facilities.
However, protecting our client's onshore and offshore infrastructures from a highly corrosive and hostile oil and gas environment is our first priority.
maintaining your onshore and offshore infrastructures from a highly corrosive and hostile oil and gas environment still remains our first priority.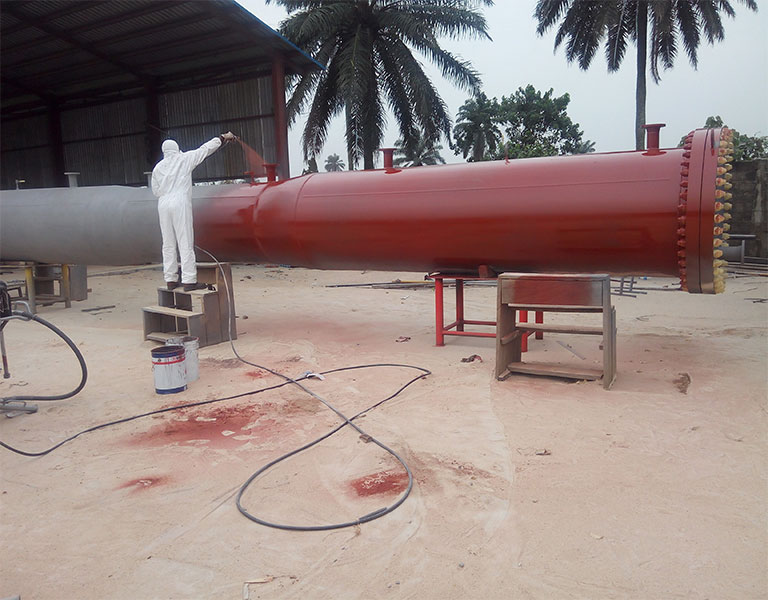 Our blasting locations and services:
OFFSHORE: FSO, FPSO, Barges and Houseboats, Jack up, Rigs, Semi-submersible Rigs, Production, Platforms, etc.
SWAMP: Flow station, Tanks and Pipelines
ONSHORE: Tank farms, Flow-stations, Gas terminals, Factories, Power-stations and Riser repairs
SHOP BLASTING: Pipe spools, Pipe supports, Steel structures and Skids
TANKS: Structural work, Blasting and Painting, Inspection, Calibration
Our Best Solutions
Advanced Technology

Expert Engineers
Delivery on Time
In enim justo, rhoncus ut, imperdiet a, venenatis vitae, justo. Nullam dictum felis eu pede mollis pretium. Integer tincidunt. Cras dapibus. Vivamus elementum semper nisi.
Aenean vulputate eleifend tellus.
Some of our blasting equipment and machines
What we can Do
We have the expertise and strong commitment to the provision of excellent services in Engineering, Procurement, Construction, Installation and Commissioning. Whatever the needs may be, we can provide strong partnership as a supply chain service provider in outsourcing, manufacturing, engineering, and transportation for excellent execution and delivery of our various projects.